Our Services
Serving Greenwood County
At Frank's Car Wash in Greenwood, SC, we provide a full service, professional car wash and detailing service, as well as quick lube and oil change services. Call 864-223-6535 today with any questions about the following services:

* Full Service Lube
* Car Wash
* Waxing
* Interior Cleaning
* Carpet Shampoo
* Engine Cleaning
* Regular Clean-Up
* Complete Detail Packages
* Boats

About Us
Car Wash Greenwood SC
At Frank's Car Wash, you can trust our car wash to have you rolling on the road in style with your vehicle looking as shiny and clean as the day it was built. Our experts have been serving the community since 1988 as a . . . "One Stop Shop For All Your Vehicle's Service Needs!"

Our full service, express car wash specializes in providing full car wash and detailing services, as well as conveniently quick vehicle lubrication. Our express wash is offered with an oil change for a group car care package or you can receive a discounted full service car wash with the inclusion of a full service oil and lubrication change. Our lube shop never ever uses recycled oil, never has, never will. We have state of the art cloth systems and touchless blowers that will leave your car looking stunning and squeaky-clean. Get everything you need completed in one quick stop so you will be back on the road in a vehicle you will be proud to show off! Trust our years of experience and rock-solid reputation in car care, today!

Call Frank's Car Wash in Greenwood, SC at 864-223-6535 for further information or stop by and experience a car wash and quick lube location you can trust to place your car care needs as our top priority!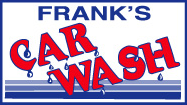 Car Wash Greenwood SC
---
Payment Methods
MasterCard, VISA, American Express, Discover, Checking Account, Cash, Travelers Check